About Us

We, Le Met Corp, are an supplier and trader of Aluminium Tube, Aluminium Round Tub, Aluminium Sheet, Copper Sheet, Phosphor Bronze Bush, Brass Sheet and many more metal products. Our entity is well-managed by a team of professionals who have a good experience and in-depth knowledge. We store products in bulk at our wing which helps us to meet the immediate and heavy demand of customers. One of the major keys behind our success is our unique management style of our professionals who make sure to follow all the industrial standards. Every individual of our company works with the mission to attain optimum client satisfaction. Our excellence has enabled us to retain clients from different industries including Refineries & Petrochemicals, Chemicals & Fertilizers, Oil & Gas, Construction, Cement, Engineering, Nuclear & Thermal, Paper & Pulp, etc.

Our Team

The credit of our success undoubtedly goes to our team of professionals who are technically sound and experienced enough to handle all the business operations. The rich industry knowledge of our experts is helping us to meet the expectation of customers by serving them in an efficient way. We have different professionals for carrying out the different business tasks in an effective manner and in accordance with the international industry norms. Some of the key persons of our team include the following:

Engineers
Quality inspectors
Warehouse professional
R&D experts
Skilled workers
Our Vision And Mission

The vision of our company is to maintain an annual growth rate of 50% and establish ourselves as a globally renowned name for Copper Sheet, Aluminium Sheet, Brass Sheet, Phosphor Bronze Bush etc. Further, we always aim to remain the prime choice of customers whenever they think of buying quality metal.

The mission of our company is to set a benchmark in the metal industry by offering the right value of customer's money. We want to touch the heights of excellence and attain the faith of customers, thereby, developing the best bond with them.

Services

Sourcing & Procurmentation: Our company to get the desired metals goods within a short period of time that is usually between 24 to 72 Working Hrs. Our terms and condition are favorable, focused on excellence, we give our best to make the customers happy.
Negotiation: We source clients' requests through our entire network of manufacturers to negotiate for the right price and high quality. Our professionals work round the clock to find the best for the customers and make them happy.
Inspection: We employ the services of various globally recognized inspection firms. From chemical tests, the NDT test to Final Random Inspections before shipping it is ensured that all the specified standards are met.
Our Associates:We share an excellent relationship with manufacturers, they walk step by step with us at every phase of our business and help us to deliver the best to our customers.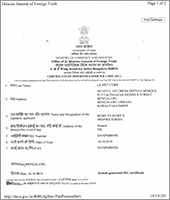 Read More